Do you ever think about what kind of gift you would give to a clarinetist? You are in the right place. There are a lot of interesting things, which makes every clarinet player happy regardless of their level. Firstly, you need to define your budget, note that some "toys" for musicians can be affordable and others can be expensive.
To make your choice easier I divided gift ideas into several categories:
1. Basic equipment
First of all – reeds. Clarinetists are always happy seeing a new box of their favorite reeds. Be careful – you need to know exactly which brand and strength is used by the player. For most beginners, 1.5 to 2.5 reed strength is proper. The most common is 3.5 by Vandoren or D'Addario company. Also useful could be a new ligature, barrel, or mouthpiece, however, these are products that are rather selected individually, because they determine the quality of the sound. In this group of accessories, I also include a clarinet neck strap, clarinet thumb rest cushion, clarinet case, and reed case.
2. Necessary accessories
Tools such as a mouthpiece cap, swab, pad dryer, powdered pad paper, silver cleaning cloth, clarinet mouthpiece cushions, and cork grease are very welcome. Many of these kinds of accessories wear out frequently, so for sure they are a hit gift. Everybody likes to have a clean and shiny instrument.
3. Advanced accessories
Screwdrivers or reed knives are good items for advanced clarinetists. These things help with quick repairs.
4. Simple accessories
Devices like metronomes or tuners are often used by musicians. Nowadays a trend is to use an app on a smartphone, but it can steal your focus while playing, especially when you receive a lot of social media notifications. Another idea is to give a music stand or clarinet peg.
5. Sheet Music and Books
New sheet music is always a good idea for a gift. For beginners there are plenty of schools for clarinet or technical exercises, which are helpful to develop skills of young clarinetists. You can find as well interesting books for advanced performers like Clarinet Secret, or 52 More Clarinet Secrets written by Michèle Gingras. Other ideas are books about clarinet repertoire or musicians as for ex. L'ascèse et la flamme Guy Deplus conversations with Bruno Martinez.
6. Other stuff
You can find a lot of posters, t-shirts, postcards, pins, ties, tie clips, shoes or jewelry with clarinet or music symbols, which could be a suitable gift.
Here is a list of top 10 clarinet gift ideas that represent each of the groups described above.
1. Reedcure Silverstein – case for reeds
Elegant, innovative reed case with curing and sterilizing function that will take care of the hygiene of reeds.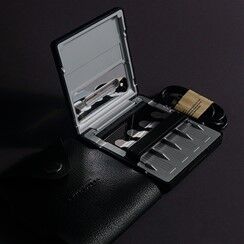 source: www.silversteinworks.com/reedcure/
2. HumidiPro Lomax Clarinet Case
This case will protect clarinets against cracks, thanks to humidity-controlled environment and the possibility of a heating case.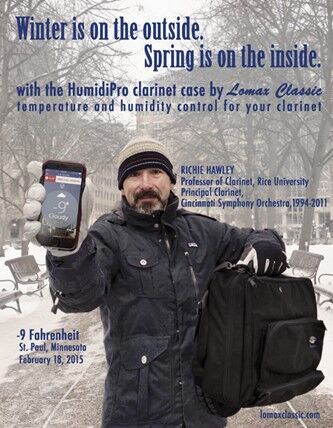 source:www.lomaxclassic.com/index.php/humidipro-cases-covers/
3. HumidiPro Lomax Reed Case
All in one, Lomax reed case is proper for reeds for B flat and A clarinet, E flat clarinet, and bass clarinet. Humidity control extends the life of the reeds.
source: www.lomaxclassic.com/index.php/product/humidipro-sax-bass-reed/
4. Reed Geek
A kind of knife suitable to improve reeds that is safe during plane travels, so it is a great gift for frequent-flyer clarinetists.
source: www.reedgeek.com/product/reedgeek-black-reed-tool/
5. Thumb holder
Maestro 2 by Ton Kooiman is a professional model, ergonomically improved, individually adjustable thumb holder which helps to prevent fatigue symptoms.
source: www.thomann.de/pl/ton_kooiman_daumenhalter_maestro_2.htm
6. Reed glass resurfacer
A smart tool made from washable tempered glass that features an etch for fast and effective improvement of reeds.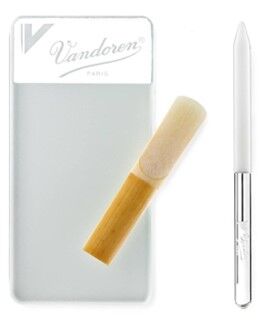 source: www.vandoren.fr/en/vandoren-accessories/glass-reed-resurfacer-and-reed-stick/
7. Pad Dryer
Washable, highly absorbent pad dryer, helpful for every clarinet player to dry the pads after playing.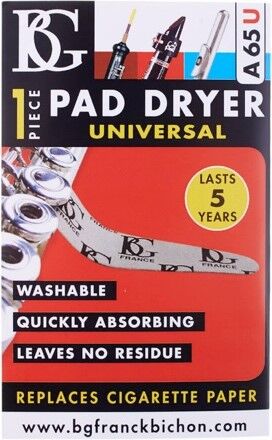 source: www.thomann.de/pl/bg_a65u_pad_cleaner.htm
8. Powder paper
Like a pad dryer it helps to keep clarinet pads dry and extends their lifetime.

source: www.justforwinds.com/powdered-pad-paper-50-sheets
9. Clarinet care kit
Simpleclarinet care kit, contains useful tools, seems to be a great choice for both beginning students and professionals.

source: www.justforwinds.com/superslick-clarinet-care-kit
10. Book
Top clarinet secrets about technique, reeds, equipment, repertoire and more in one book recommended for advanced clarinetists.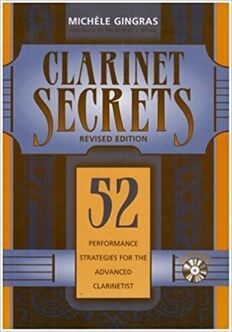 source: www.amazon.com/Clarinet-Secrets-Performance-Strategies-Clarinetist/dp/0810857332
When it comes to gifts for clarinetists there will always be many options. With the above suggestions hopefully, you have more of an idea for the perfect gift for that special clarinetist in your life!